Community Involvement & Awards
---
Presdiensts Diamond Club 4 Years In A Row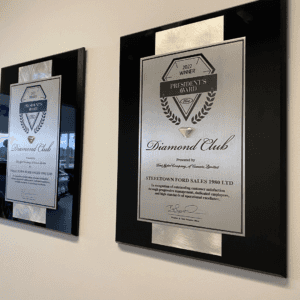 At Steeltown Ford, we are honored and thrilled to announce that we have achieved the prestigious President's Diamond Club Award for the fourth consecutive year! This remarkable achievement is a testament to our unwavering commitment to providing unparalleled customer service and exceptional automotive solutions.
The President's Diamond Club Award is bestowed upon a select group of Ford dealerships who demonstrate outstanding performance, customer satisfaction, and community engagement. It symbolizes the highest level of excellence within the Ford family.
We owe this remarkable accomplishment to our dedicated team of professionals whose passion for customer satisfaction drives us to deliver nothing short of excellence. Each member of our staff is committed to going above and beyond to ensure our customers have an unforgettable experience with us.
We extend our heartfelt gratitude to our valued customers for their trust and loyalty, as this award would not have been possible without their support. Your satisfaction and happiness are what motivate us to continuously improve and strive for excellence.
---
Selkirk Comp Automotive Program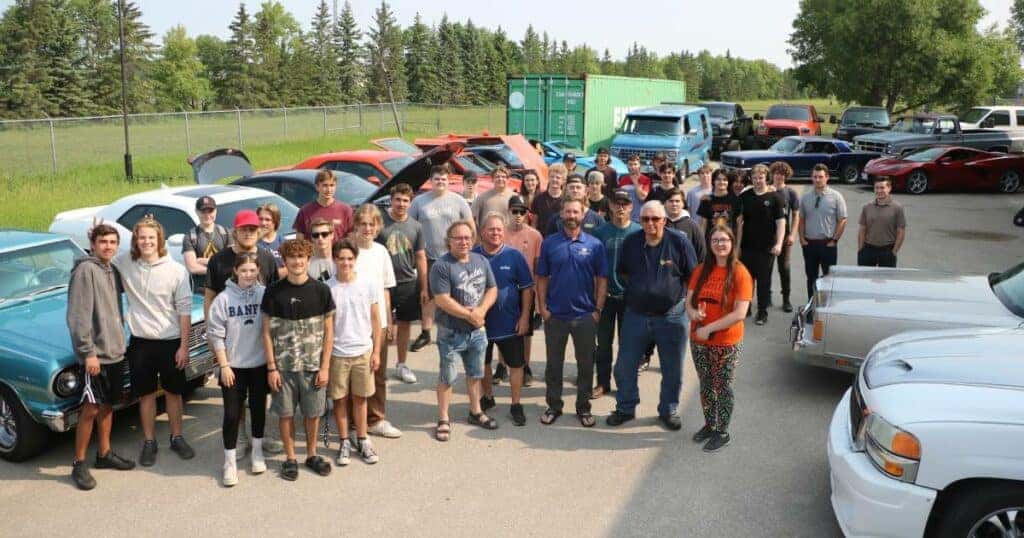 First Annual Lord Selkirk Comp Automotive Technology BBQ & Show and Shine.
Steeltown Ford proudly supports the automotive program and the students at Selkirk Comp High School, recognizing the importance of investing in the future of the community. By partnering with the school, Steeltown Ford actively contributes to the development of young talent, fostering a passion for automotive excellence and providing valuable learning opportunities. Through sponsorships, scholarships, and mentorship programs, they empower students to pursue their dreams and excel in the automotive industry. Steeltown Ford's commitment to supporting education not only strengthens the local community but also helps shape the next generation of skilled professionals, ensuring a prosperous future for both the students and the community as a whole.
---
Kin Kar Giveaway
Proud Partner of the Winnipeg Kinsmen for the Kin Kar Raffle.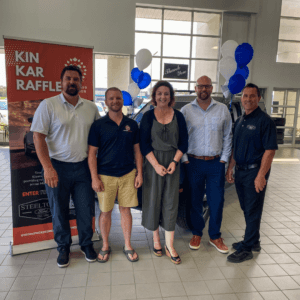 Winnipeg Kinsmen has been serving the community's greatest needs since 1924. Winnipeg Kinsmen raises money for our community with many fun projects, such as the popular Kinsmen Jackpot Bingo and Kin Kar Raffle.
The Kin Kar Raffle is a thrilling annual event that not only ignites excitement among car enthusiasts but also raises critical funds for charitable initiatives in the Winnipeg area. By teaming up with the Winnipeg Kinsmen, we are combining our passion for automobiles with their unwavering commitment to enhancing the lives of those in need.
Steeltown Ford's commitment to social responsibility goes beyond selling exceptional cars; it's about being actively involved in the betterment of our community. Our partnership with the Winnipeg Kinsmen reflects our dedication to supporting charitable organizations that make a real difference in people's lives.
---
Awards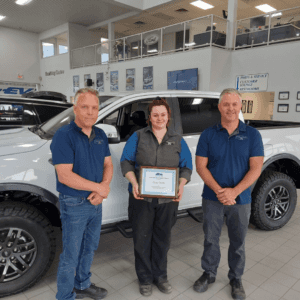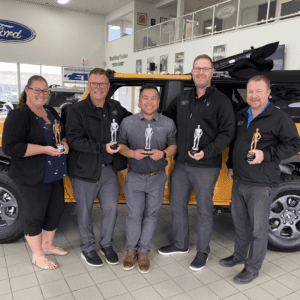 Steeltown Ford prides itself on having a winning team that consistently goes the extra mile to ensure customer satisfaction. With an unwavering commitment to hard work and excellence, their dedicated staff has achieved numerous top-tier service awards, cementing their position as an industry leader. By prioritizing the needs and preferences of its customers, Steeltown Ford has earned the well-deserved reputation of being #1 in customer satisfaction. Picture 1 featuring Kirbee winning the prestigious Motor Vehicle Industry of Manitoba Scholarship! And picture 2 features our sales team earning Ford's Summit and Peak awards! Our winning team's dedication and commitment are evident in their consistent delivery of unparalleled automotive expertise, making Steeltown Ford the preferred choice for all automotive needs.
---
Truck or treat food drive
In October of 2022, we collected over 200 lbs of nonperishable food items in support of the Selkirk food bank. Thank you to all our loyal customers and staff for their generous donations!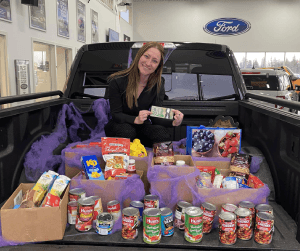 ---
Supporting Our Community One Event At A Time
We are proud to give back to our community of Selkirk and its surrounding areas. Steeltown Ford has been a proud supporter of countless organizations over the years. Some wonderful organizations we have worked with are Nova House, Never Alone Foundation, Winnipeg Kinsmen, Homeless Not Hopeless Foundation, Hungry Heros, Dream Factory, Selkirk Food Bank, and Selkirk & District Community Foundation.